General Education Development, is a set of five multiple choice tests in the following areas of study: language arts writing, language arts reading, social studies, science and mathematics. GED is recognized across Canada and the United States. Many employers will accept the GED in place of a high school diploma and some college programs accept the GED in place of a prerequisite, but you should enquire at individual colleges to confirm.

GED Tests are scheduled throughout the academic year. They are usually held on a Saturday from 8:15 a.m. - 4:30 p.m.

Upcoming Tests Dates:
| | |
| --- | --- |
| Cold Lake Campus | Lac La Biche Campus |
| October 26, 2019 | November 23, 2019 |
| February 29, 2020 | January 25, 2020 |
| April 18, 2020 | March 21, 2020 |
| June 13, 2020 | May 30, 2020 |

If you wish to write your GED test or have any questions, please contact by phone 1-888-745-0719 or email training@portagecollege.ca
Pre-registration and full payment of testing fees are required prior to the test date you have selected.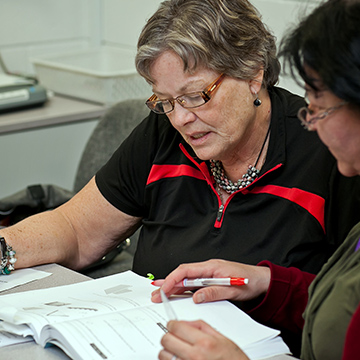 Special writing dates can be added for interested organizations, dependent on the number of candidates and circumstances. Please inquire (additional costs may be involved). A study guide is available at the College Bookstore (or local campus) titled Complete Canadian GED Preparation. It costs about $30.00. In addition, you can enquire about a GED preparation course which run dependant on the number of interested candidates.

GED Requirements: You must be 18 years of age or over and out of high school for at least 10 consecutive months.
GED Test Fees: $200 full exam; $190 rewrite exam.