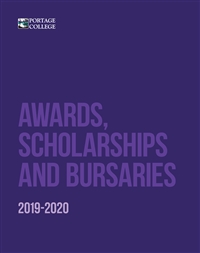 Portage College has many awards, bursaries, and scholarships available for students. To qualify students must be enrolled in, or have successfully graduated from a program and fulfil specific requirements.
Simply fill an application form and send it to the Awards Office at the Lac La Biche Campus by mail, fax or scan to email. You can also pick up a form from a Student Advisor or the Student Services Centre.
Portage College Entrance Scholarship Form

To apply for the "Invest In Your Future" scholarship listed in the Portage College Awards booklet please use this link.
All bursaries are taxable. You will automatically be issued a T4A if you are a recipient.
Scholarship, Bursaries & Awards Definitions
Portage College Lac La Biche Campus
Box 417
9531 - 94 Avenue
Lac La Biche, AB T0A 2C0
Email Student Awards
Phone toll free: 1-866-623-5551