Portage College is pleased to announce that we will be offering a Bachelor of Business Degree in partnership with NAIT in the fall of 2019. Students will be able to attend courses at the Cold Lake or Lac La Biche campus. This gives students the opportunity to complete a Bachelor of Business degree granted by NAIT without having to relocate to Edmonton.

Students who have completed Portage College's two-year Business Administration Diploma Management or Business Administration Diploma Accounting program can now be admitted directly to year three of the NAIT Bachelor of Business Administration degree. There will be a rotating combination of year three and year four cohorts that will allow the degree program to be offered continuously at both campus locations, eliminating "wait" times for diploma students in any year.
NAIT Bachelor of Business Administration

Student Success Story!
These students mean Business! Brenda Robertson and her classmates achieved a 'first' with us. They are among the first students to receive their Degree in Business Administration (BBA).
Click here for Brenda's compelling but most of all - relatable story.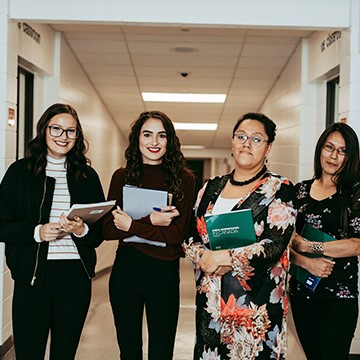 To learn more about this wonderful opportunity please contact one of our Student Advisors. At our Cold Lake Campus email student.advisor@portagecollege.ca or phone 780-639-7109. In Lac La Biche email student.advisor@portagecollege.ca phone 780-623-5575.
Read more about our BBA agreement with NAIT