The Be Fit For Life Network is a provincial initiative comprised of nine regional centres, working in coordination to support a more physically active Alberta. The Network is supported by operational funding from the Recreation and Physical Activity Division of Alberta Culture and Tourism and by additional project grant funding from Alberta Sport Connection and Sport Canada. Each Centre is located within and works in partnership with a College or University across the province.

Vision: Albertans are knowledgeable, confident, motivated and have the skills they need to engage in physical activity for life.

Mission: Work collectively to inspire, educate and support Albertans to lead healthy, physically active lifestyles.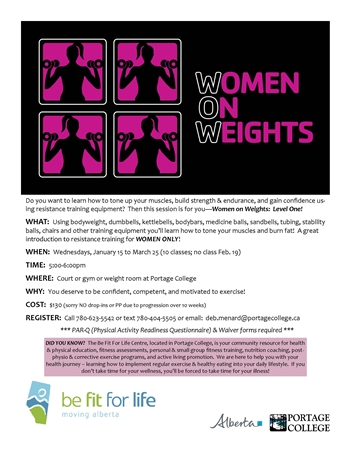 Our Services include:
Development and distribution of health, wellness, & fitness information resources
Coordination of special events & projects, and PLAY (Physical Literacy and You) Lac La Biche community group.
Presentations, displays, and workshops on active living, health, & wellness
Fitness, health, & lifestyle counselling and assessments
Customized cardiovascular, flexibility, muscular strength & endurance exercise programs for individuals or groups
Variety of group exercise classes (portable equipment, choreography, step, cycle, mind/body) for all levels of fitness
Collaboration on active living initiatives with community partners
Outreach programs and services for individuals, communities, schools, & workplaces
Linking Albertans to a vast network of fitness, health, and nutrition professionals
HIGH FIVE - The Way to Play and NCCP Community FMS Leader certification courses
Active Sessions for Conferences
Be Fit For Life Network Resources Workshops
Be Fit For Life Fees for Services
Fitness Consent Form

Located at Portage College (Room 126, adjacent gymnasium)

For more information contact:
Deborah Menard
Be Fit For Life Coordinator
Phone: 780-623-5542
Fax: 780-623-5675
Email: Be Fit For Life