The brightest Business students in the province are about to meet and compete in one of the toughest post-secondary competitions of the year. The team from Portage College is ready to turn their practice into perfect.
The annual event is the Alberta Deans of Business Case Competition. It brings together Alberta's best business students with the opportunity to compete in a case study. Teams will be asked to develop beneficial solutions to a real-world business problem. All Alberta post-secondary institutions with a Business Diploma Program are eligible to participate - and the competition is fierce.
The five team members from Portage College are ready! They have been preparing with mock cases to strategically analyze and create real solutions. This requires the students to use knowledge gained in all of their business courses.
"I'm looking forward to the experience!" Portage College student, Garry Mindus is enrolled in the collaborative Bachelor of Business Administration Management between NAIT and Portage College. The other Portage College team members are: Albert Grandbois-Potskin, Kianne Lazado, Katelynn Manuel and Kelly Orr who are in their first year in Business Administration. Garry adds, "We're in the same program but in this we're working together in a whole new way."
The competition starts 8:00 am Friday, March 13th at the Southern Alberta Institute of Technology (SAIT) in Calgary. Teams are given a business case, confined to a war room, and by 6:00 pm must have completed the analysis, solution and implementation as a presentation. Once the presentation is submitted at 6:00 pm it cannot be changed. Students then work on polishing how they will present to the judges until the wee hours of the morning. At that point, Business Coordinator Val Lyons and Instructor Allan Robertson can only support and encourage the students. The real work and heavy lifting has already happened in preparing the students for the competition.
All 14 teams will present Saturday morning in front of a panel of judges. Prestige and prize money are up for grabs as well as pride in Portage College.
For photo opportunities, interviews of students, and more information about the Alberta Deans of Business Case Competition contact:
Michele McDougall | Marketing Specialist Portage College
(780) 232-8335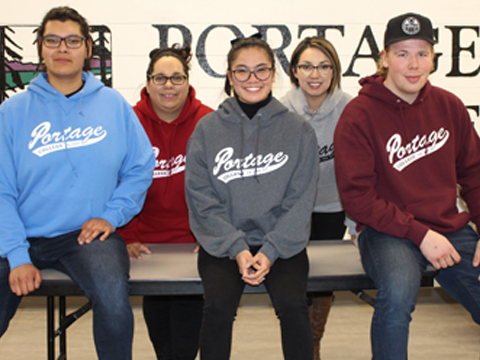 Business Administration students front row: Albert Potskin 1st Year, Kianne Lazado 1st Year, and Garry Mindus Bachelor of Business Administration. Second row: Katelynn Manuel 1st Year and Kelly Orr 1st Year.
Media Inquiries:
Jaime Davies, Corporate Communications Manager
780-623-5581 or email