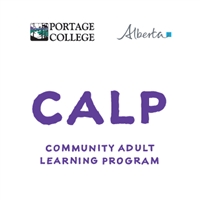 The Portage College Community Adult Learning Programs (CALPs) are award-winning community-based programs funded by Alberta Advanced Education. Visit the CALP website to learn more about the programs offered.

The Community Adult Learning Program supports over 100 community-based organizations that offer adult literacy and foundational learning programs.

What we do
Led by trained educators, faculty work with adults who want to upgrade their reading, writing, math, computer, or English Language skills to improve their daily lives.
Learners can either come to CALP with their own goals, or work with CALP staff to set and move towards a goal.
Learners can work with our staff in small groups or one-on-one, and can work towards both short-term or long-term goals.
Areas of support include
English and Mathematics Tutoring
English Language Learning
Studying for GED or IELTS and so much more.
Basic Computer Skills, such as email
Literacy for Daily Living, such as filling out forms or applications
Our service region
Over 100 CALP sites exist across Alberta. Portage College oversees sites in these northeastern Alberta communities:
Bonnyville
Cold Lake First Nations
Elk Point
Frog Lake First Nations
Kehewin Cree Nation
St. Paul
Whitefish Lake First Nation #128
Province wide initiatives
CALPs serve the needs of people in their communities. For example, CALPs connect workers with upgrading opportunities, homemakers with literacy programs, seniors with technology skills, parents with the knowledge to help their children with schoolwork, and immigrants with settlement or language services.

Contact information
If you have any questions about the Portage College CALP program please contact Meghan Ostertag, CALP Supervisor at 780-815-4432 or email meghan.ostertag@portagecollege.ca

Bonnyville
Meghan Ostertag, Bonnyville CALP Coordinator
Location: Bonnyville & District Centennial Centre
Address: 4313 50 Ave. Bonnyville, AB T9N 0B4
Phone: 780-815-4432
Email: meghan.ostertag@portagecollege.ca
Cold Lake First Nations
Sherry Day, Cold Lake First Nations CALP Coordinator
Location: Cold Lake First Nations Band Hall
Email: Sherry.Day@portagecollege.ca

Elk Point
Sandie Bishop, Elk Point CALP Coordinator
Location: Elk Point Municipal Library
Address: 5123 50 Ave. Elk Point, AB T0A 1A0
Phone: 780-724-3737
Email: sandra.bishop@portagecollege.ca

Frog Lake First Nations
Danielle McArthur, Frog Lake First Nations CALP Coordinator
Location: Norman C. Quinney Centre for Training & Employment
Address: Box 598, Frog Lake, AB T0A 1M0
Phone: 780-614-3478
Email: danielle.mcarthur@portagecollege.ca

Kehewin Cree Nation
Charlene Medema, Kehewin Cree Nation CALP Coordinator
Online at Kehewin Cree Nation
Email: charlene.medema@portagecollege.ca
St. Paul
Carmen Murphy, St. Paul CALP Coordinator
Location: St. Paul Portage College Campus
Address: 5205 50 Ave. St. Paul, AB T0A 3A0
Phone: 587-252-4599
Email: carmen.murphy@portagecollege.ca

News