Portage College Hairstyling students have adapted well to a new strand of learning. Last fall, the program, based out of the Lac La Biche Campus, changed its delivery from face-to-face to a blended format to meet COVID-19 guidelines and safety protocols. Since then, the program area and students have adapted well to the new format which contains periodic time on campus and classroom lectures online.
Amy Cardinal, a first-year Hairstyling student at the Lac La Biche campus, feels like the new online learning format has been easy to learn. "I am an older student, 32, I haven't been in school since I was 18, so I felt like [online learning] was harder at first and I was a little bit intimidated. But as I went through, it was easy to learn and I actually prefer it!"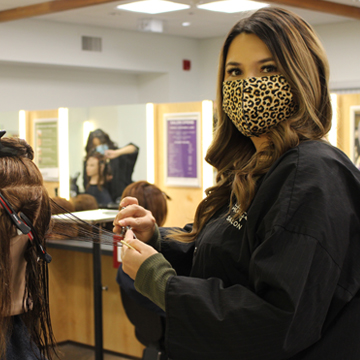 Cardinal explains that being able to learn online has provided a different learning opportunity and given her a boost of confidence. "It was easy to contact my instructor if I had a question and I didn't feel intimidated, I didn't have people looking at me...You get that one-on-one with your teacher."
With the new model, students like Cardinal are able to join the lectures online from the comfort of their homes and review all the lectures that are recorded and online. The College's learning management system, Moodle, is where instructors post video and audio files, and assignments for students to access. While the students learn most of the theory online, they still get to perfect their techniques in the salon.
"I love the benefit of also learning the hands on stuff as I'm hands on," says Cardinal. "Our teacher will say, okay, Monday we are doing the theory part at home online, then the next day is hands on. I love that!"
Nadia Houle, Hairstyling Coordinator and Instructor notes that students are actually getting better marks since the switch to blended learning. "As Portage College moves into the new year we are continuing to meet the COVID-19 guidelines and work closely to meet the needs of each and every student. At this time we are happy to note it has not had a negative affect on our students' learning, but instead has provided them with a new way to learn."
Cardinal, for one, agrees wholeheartedly. She has found that she is more focused on her studies and is more comfortable with the blended learning format. "I feel like I learn more this way, I like it better."
Program Inquiries:
Emily Steele, Marketing Specialist
Phone: 1-780-623-5654
Toll Free: 1-866-623-5551 Ext. 5654
Email