Paramedics save lives. They are highly trained health care professionals who stabilize and treat patients before and during transport to hospital. Paramedics know that seconds count.
This week is Paramedic Services Week in Alberta, a time to shine the spotlight on those front-line responders to recognize their efforts and dedication. Those who become Paramedics say it is a calling and when it comes to learning the knowledge and skills, they give it their all.
"I started with the fire service because I always had an interest in helping people. But when I got the introduction to patient care, I loved it. That's when I knew it was right for me." Chrissy MacNeil is an Advanced Care Paramedic student at Portage College. Her goal is to be busy and work in a suburban yet rural setting. The program in Lac La Biche is preparing her for just that, "The instructors are knowledgeable and super accommodating. We always feel we are ahead of the game."
The Paramedicine programs at Portage College are taught using a blended delivery model. This allows students to complete theory courses online without relocating for the entire program. Students complete face-to-face labs in Lac La Biche and clinical/ambulance placements in assigned locations. All instructors at Portage College are Advanced Care Paramedics or Registered Nurses.
When MacNeil was partnered with Chelsea Gale for on-campus labs, Chelsea discovered they had something else in common besides their passion for patient care, they are full-time working mothers, "We both have two-year olds so the blended delivery was the best option. My goal is to work in critical care in a rural setting – first in ground ambulance but eventually air ambulance."
Dr. Donna Feledichuk Dean of Paramedicine says, "We have one of the best Paramedicine Programs in Western Canada. We train our students with the necessary skills and knowledge to make the right decisions. We pride ourselves on having exceptional instructors who are dedicated and care about our students. They instil in our students a sense of integrity and compassion making Portage College grads some of the top performers in EMS."
Recent exam results from the Canadian Organization of Paramedic Regulators saw a 100% pass rate for Portage College Advanced Care Paramedics who performed at a much higher rate than the national average that was slightly above an 80% pass rate.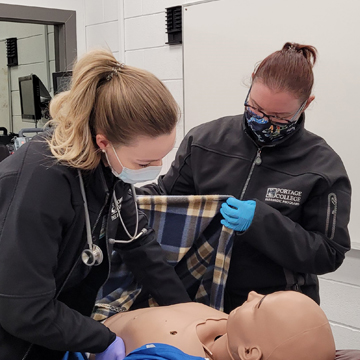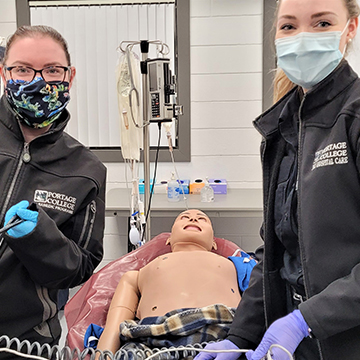 Advanced Care Paramedic Students, Chelsea Gale and Chrissy MacNeil
For more information about the Paramedicine programs contact:
Michele McDougall, Marketing Specialist
Email or 780-232-8335